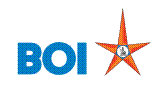 Guide to Safe Internet Banking
Internet banking has become an easy and convenient way to conduct financial transactions. But like most things on the Internet, the onus of a safe and secure banking experience is on you, the user. To make sure that you can sleep soundly at night, here are some steps you can follow.
Keeping your personal information secure
Manage your PINs and passwords: protect your Personal Identification Numbers (PINs) and passwords by memorising them and not disclosing it to anyone, not even family members, friends or employees of Bank of India (New Zealand) Limited ("we", "us" or "our). Choose a password that is hard to crack and not easily identifiable with you (for example, do not use parts of your telephone number, nicknames, spouse's name, sequential numbers or other easily accessible personal data). Aim to use a combination of letters, special characters, numbers, uppercase and lowercase and then change it regularly – at least every 30 days. You should consider using a different PIN or password for different cards or equipment.
Use a secure computer: never access your bank account from a public computer - always use your own computer to log in to your account and try to be aware of who is around you. Public computers may have programs running on them that monitor your keystrokes, which can be used by people to obtain your account details and password. Never leave your computer unattended. Follow the instructions on your bank website to securely log off after each session.
Know who you are dealing with: look for the padlock symbol on the bottom right of the page to ensure that the site is in secure mode before entering your personal details. You should be able to double click on this to see a digital certificate giving the website and name of the company you are dealing with. Companies should have both a physical and postal address – feel free to call companies who you are buying from to talk over their online security policies.
Making sure your payment is secure: when transacting online check the following:
· the bit encryption of the site under its privacy policy (this should be 128 bit (Verisign));
· the padlock icon should display a closed lock; and
· the web address should be secure (ie. https://starconnectcbs.bankofindia.com).
Protecting your computer
Keeping your software updated: install the latest anti-virus and anit-spyware software and update your computer's security patches, operating system and internet browser regularly to ensure you are well protected.
Install and enable a firewall: firewalls can go a long way in ensuring that your computer is not subject to unauthorised access. Go to "Control Panel" in your operating system (if you have Windows XP) and select "Enable Firewall". This will work to permit or block internet traffic and can withhold your personal information from spam and unauthenticated logins from potential hackers.
What to watch out for
Mules and Scamming: these scams target people via email, recruitment websites and newspaper ads. They often ask you to receive funds into your account and these funds are then withdrawn and paid overseas. Be wary about receiving money from people you don't know.
Viruses: always check whether the website at which you log in your account details is genuine. There are fake websites out there that parade themselves as well-known bank websites to procure your account details. Some of them are very convincing. Check the address of the website carefully before typing in your password. Also check for the 128-bit encryption seal (VeriSign) on the home page that loads up.
Viruses: a virus or a worm can infiltrate your computer hard drive and manipulate your files. To avoid them, do not download or open files from unknown sources.
Spyware/Keystroke Loggers: this software can be downloaded onto your computer when you visit an unsafe site or when you open an attachment or online link through an email. The software records your keystrokes, such as your password and banking login details, and allows the fraudster to access your online banking to make payments to themselves.
Trojans: Trojans are a type of infectious software that can modify the pages and content of your online transactions. Always keep an account of your online purchases and report anything that seems suspicious.
Phishing: look out for unexpected emails from people you may or may not know.  These could be in the form of an innocent email, apparently from your bank, requesting you for your account details or an email from a friend or colleague with an unusual link or attachement .Here are some tips:
· always check whether the website at which you log in your account details is genuine;
· check the address of the website carefully before typing in your password;
· check for the 128-bit encryption seal (VeriSign) on the home page that loads up;
· to ensure that you are going to our authentic website, type in our full website address into your browser instead of clicking on any link directly. Always type in http://www.bankofindia.co.in into the browser address field to go our website and from there go to our Internet Banking Website;
· the address of our authentic Internet Banking Website is https://starconnectcbs.bankofindia.com. It opens only when you click on the Internet Banking link available on our Homepage (www.bankofindia.co.nz) and then Retail/ Corporate user. It opens in a separate POP-UP frame / Window. It doesn't open if you type the address directly in the browser;
· before inputting your username and password in the window , make sure you see the "Padlock" symbol on the bottom right side of our Website;
·  We will never ask you to update your sensitive information by email. However it is best practice to update your mobile number and contact address by visiting our authentic Website so that we can keep you informed about our new schemes, announcements, any security alerts etc on your email address and mobile phone. Also, we advise you to use the "Virtual Keyboard" available on our Website.
· if you receive an email claiming to be from us regarding updating sensitive account information, let us know by forwarding the same e-mail at infosecurity@bankofindia.co.in with a copy to boi.starconnect@bankofindia.co.in or contact us at +64 9 926 5797;
· install and update the latest Antivirus, Anti Spyware, patches in your PC and most importantly change your password (keep it at least of 8 letters with combination of letters (a to z) , numbers (0 to 9) and special characters ($ , # , * etc)) at regular intervals; and
· if you have given away any personal information call us immediately to block your accounts.
Always remember that there could be people out there who are just looking for one slip up from you to get your account details. Stay alert and your money will be safe.
Back To Login Page